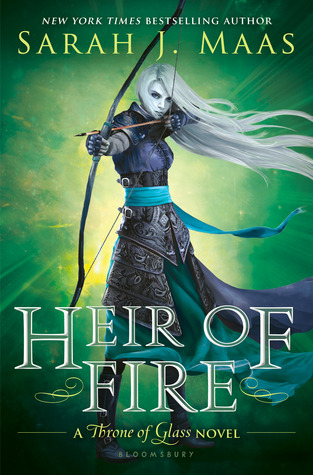 As broken as Celaena Sardothien felt after the death of her dearest friend, Nehemia, and after breaking her relationship with Chaol, she thought that she couldn't feel any worse, or that she will never feel again expect for self-loathing and numbness that covered her heart and soul. But as her heritage is being brought up and she has to face who she is and what she represents and who she was born to be, the anger and fear inside her have no bounds and just like the numbness are trying to swallow her whole.
While Celaena fights her own battle with herself, Prince Dorian is fighting his own. The magic inside him grows stronger with each passing day and he has no knowledge and no means to stop it surfacing, and if his father ever found out about it, he and anyone close to him, would be killed. Estranged with Chaol, because all the secret both of them started to keep from one another, Dorian has no one to talk to and no one to save him from himself.
In the meantime Chaol is struggling with the knowledge that Celaena left him with. With a secret of her real identity. Chaol has to make serious choices about who he should serve and protect.
Will they all find the answers to their questions? If they do, will they embrace their fate or will they crumble and hide? Find out reading Heir of Fire. This book kept me on emotional rollercoster through the whole book. Great read and unexpected developments. Just read and enjoy.